Monday. Again. Sigh.
A little over a week ago I had just finished reading Orson Scott Card's novel "
Ender's Game
"
It was a great book.
At around the same time Randall Munroe put up this comic at
xkcd
: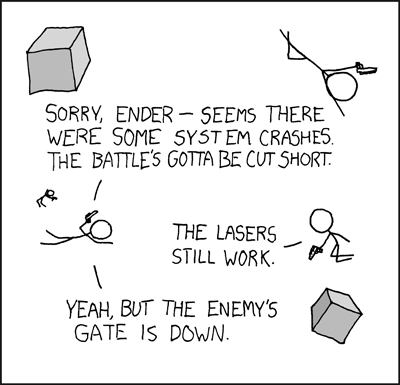 It's a great comic. But only if you've read the book. Otherwise it's "wtf?"
Still. Fun coincidence.
---
On an unrelated note, I shaved off all of my facial hair on Friday. After I'd finished, I wiped away the lingering foam, took a good look in the mirror and thought, "Now I remember why I grew a beard in the first place." Luckily Heather still loves me, although both of my children screamed when they saw me. Seriously. No joke. Derek says I look less scary. Less threatening. Where's the fun in that? Especially since I have a teenager to keep in line. Grow little hairs, grow!